Despite all the well-meant parental hysteria and traditional latent Technologiefeindlichkeit (distrust of technology – unless it has to do with cars), German kids and young adults are turning into Internet junkie zombie freaks before our very Bildschirme (display screens). As we speak, so-to-speak.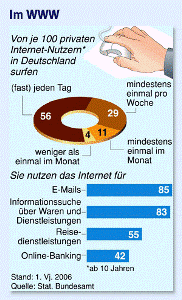 According to the latest numbers put out by the German Federal Office for Statistics, a whopping 92 percent of the 10 to 24-year-old age group goes online regularly, 58 percent of them on a daily basis. It is unclear, however, how many of these glassy-eyed, paled and pimpled pubescent persons ever go back offline again. At least in my neighborhood, I mean.
Because not only is this excessive so-called "surfing" having an adverse long-term effect upon Germany's delicate social fabric, the current heavy and ever-increasing traffic is also becoming a growing inconvenience for the rest of us out there in the virtual world who might like to read a little spam now and again or maybe post a piddely little blog entry every once in awhile if-you-don't-mind-please but can't because the wireless lines are overloaded and the Ethernet is out of ether or something.
And it's just plain rude, too, damn it. Go outside and play some baseball for crying out loud! I mean soccer. I mean Fußball.
Come visit me at Observing Hermann…