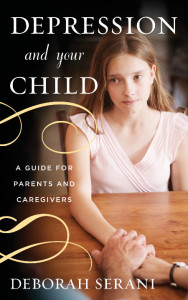 Is your child depressed?  Would you know if even if she were? My guest today is Deborah Serani, author of the self-help parenting book, Depression and Your Child: A Guide for Parents and Caregivers.  In this interview, she gives us tips on what to look for and what to do if it's happening right inside our own family.
Thanks for being my guest on Blogger News today, Deborah. Can we start off by having you give us a brief description of your book?
"Depression and Your Child" A Guide for Parents and Caregivers" is a book about Pediatric Depression. Long ago, it was believed that children weren't developed enough verbally or physically to experience depression – but research over the last ten years shows us that this is not true. Many children, even babies, can struggle with this clinical disorder. My book gives parents and caregivers the tools to spot symptoms, where to go for diagnosis and things to understand regarding treatment. A go-to resource, I like to call it.
How you came up with the idea to write it?
I was a child who lived with depression – but back in the 1960's no one even thought to consider me ill. I wanted to reach and teach others about Pediatric Depression so kids could get the help early in their life. My untreated depression led me down a despairing and destructive path – almost ending with suicide. Now as a clinician who specializes in depression, I can write about this chronic illness from both sides – as patient and as a doctor. I think it gives the book a most unique perspective for readers.
What kind of research did you have to do as the book was being written?
I'm a research junkie. I love to troll academic journals, books and clinical studies. So, my books always have a strong scientific and research based grounding in the writing. But don't let my science-y side scare you. I write in a simple and uncomplicated style, making it easy to learn the science behind mental illness.
How can we as parents better understand our child's or teenager's depression?
First, know that depression "looks" different in kids than it does in adults. Children can't always express the textures of their feeling as well as adults can – so depressive symptoms come in the form of physical complaints like tummy aches, stomachaches and  headaches, for example. Feeling tired or sleepy and irritable is often reported by depressed children. Secondly, some children learn how to "mask" their depression – keeping their sadness or despair under wraps. This makes it hard to spot depression in your child. Sometimes looking at their school work or sudden changes in their social life can help you pinpoint depression.
What's the first step we should take when we think our child or teenager is depressed?
Such a great question. First step should be to talk with your child in an open, nonjudgmental way. "I just wanted to check in with you and see how you are feeling. Is there anything you want to talk about?" That's always a great opener. If your child reveals that he or she is struggling, the next stop is to get a full physical exam to be sure that no other medical issue is operating. Anemia, diabetes, mononucleosis can look like depression. Once a full physical rules out a medical condition, the next step is to contact a mental health professional. From there, you and your child will build a treatment plan to help reduce depressive symptoms.
How can we prevent ourselves from feeling like failures as parents?
I love this question, because so many parents feel as if they are failing their child when depression is in play. Understand that depression is a neurobiological illness – one that isn't caused by bad parenting. One way to shore up your confidence as a parent is to take time to notice all the things you do for your child. Don't measure what you didn't get to, or didn't complete, or didn't have time for.
Aside from writing, what other talents do you have?
I love to cook, draw and paint – and write music. I love the creative arts – they're so healing for me.
Do you have another book on the works?
Would you like to tell readers about your current or future projects? I'm working on a children's picture book called "Sometimes When I'm Sad" that will be published by Rowman & Littlefield in late 2014.  It's about helping children understand how to deal with depression. 
Do you have a website/blog where readers may learn more about you and your work?
Yes, please visit me at http://drdeborahserani.com/. From there you can link to all my social media sites.