Things get even uglier than yesterday's post. Deciding to cut their relationship short, a woman in Düsseldorf recently made the incision, I mean decision, to chop up her husband and flush him down the toilet.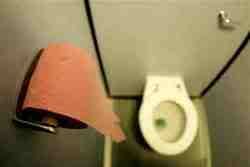 "You won't find him," she apparently told the cops. "We've decided to separate. Or I've decided to separate him, I should say. From piece to piece, know what I'm sayin'?"
"That a marriage could sink this low and get all over the sink like that, that's just like so totally gross," one not-so-shocked officer at the scene of the crime said. "I never 'saw' anything like it, get it? Boy, I sure wouldn't want dismember to be a member of any club I belong to. Ha, ha. And I guess this gives that 'until death does us part' wedding vow thing a whole new meaning. Hardy, har, har. I bet her last words to him were 'So we're flush now, honey, right?' I gotta million of 'em."
But the real grisly, I mean grizzly, killing took place here.
Honey, I think it's time to separate.
Come visit me at Observing Hermann…