Or Bambi vs. Godzilla, if you prefer. It's hard to say what was more extreme, the nervousness shown by the Berlin police department in deciding to send 600 of their own to kontrolliere (check the papers of) 30 squatters living in and around their utopian "Free-shop" paradise, or the naiveté of the squatters themselves. Okay, if I have to choose, I'll go with the naiveté of the squatters.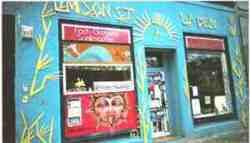 The poor fools. Living in perfect denial of the fact that the bizarre Robin Hood-esque political collectives that existed in West-Berlin's Kreuzberg district 20 years ago are no longer what you would call zeitgemäß (topical) (they weren't even back then, for that matter), they have also managed to verdränge (repress) the fact that luxury lofts and shops have been creeping up around them for quite some time now.
Not only do German investors like the one who owns this building have their plans (and he also understandably says he would like to know who the hell is living rent-free in his building), other EVIL Irish, British and American investors are now buying up Berlin real estate right and left due to the relatively low property prices here ($192 per square foot). Relatively low? Check out the prices in London, New York or Paris.
But old ideas die hard (just ask Bruce Willis). Check this one out: "The ´Free shop´ is a self-organized and anti-capitalist project which opposes our ruling order of money and consumerism. It wants to offer a practical society. In a society in which all things become products and their exchange is only organized via money, in which bank accounts decide what chances someone has to live, we want to develop a radical alternative: No money, no products, no sale and no exchange."
All I can say to that is keine Ahnung (no idea), as in they obviously have no idea what they are talking about. In a perfect world this would be a wonderful concept. That's why it's such a silly one here.
Come visit me at Observing Hermann…