Always open for what they will perceive to be a good inflammatory remark or two, Muslim Turks are anxiously awaiting the Pope's four-day visit to Turkey beginning today. Vatican sources report that the Pope is getting pretty anxious about it, too.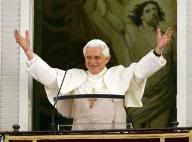 Pope Benedict XVI, well-known the Muslim world over for his rather dry theological dissertations, one of which having actually included a quote from an obscure 14th century Christian emperor which might have implied that there could possibly maybe somehow be a connection between Islam and violence, is actually visiting Turkey to try and heal a rift between the Catholic and Eastern Orthodox Church, but nobody seems to care about that for some reason.
Spokesmen for Muslim Turks say that despite the recent spat, they will definitely be seeking dialogue with the German Pope. They will be monitoring his every word, however, some possibly even through the scopes of high-powered rifles.
It is unclear as to whether the Pope will be visiting Istanbul's famous Blue Mosque with Orthodox Patriarch Bartholomew or not, but other gestures of reconciliation to the Eastern Orthodox Church are definitely planned. One unconfirmed report claims, for instance, that the Pope will publicly suggest renaming Istanbul to Constantinople again.
Come visit me at Observing Hermann…