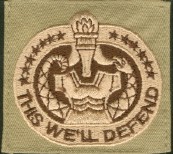 My Drill Sergeant was taller than my daddy and the blackest person I'd ever met. He spoke with a slight stutter and called everyone "Son." Although he kicked the crap out of me on a daily basis, Drill Sergeant Dudley saved my life and taught me how to soldier.
In the continued tradition of excellence, the Army's top Drill Sergeants met this week to compete for the 2007 Drill Sergeant of the Year. Judged for their performance in varied events such as a physical fitness test, land navigation, day and night rifle qualifications and even a written essay, the competitors were observed and harried along by other Drill Sergeants.
Active-duty Drill Sergeant of the year winner, Sgt. 1st Class Romani told the Army News Service, "I was real surprised. Those 13 guys I competed against – they are all pretty professional and if any of them were selected to win, I would be happy to shake their hand."
"It's an incredibly demanding position. We have made it even more demanding. It's instrumental in the global war on terrorism. They are incredible men and women and we owe them our thanks," said Command Sgt. Maj. Sparks who is the TRADOC CSM.
In other Army news, the Senate Armed Services Committee approved Pete Geren's nomination as Secretary of the Army. Geren formerly served as a Democrat congressman from the State of Texas and has been the acting Secretary of the Army since Francis Harvey was drop-kicked from the post in march amid charges stemming from the Walter Reed fiasco where it was found that many soldiers had received "shoddy treatment."
Geren, must still run the full Senate gauntlet for final approval, but considering his party affiliation and the fact that he was formerly an undersecretary of the Army, there would seem to be little cause for concern.
Lawmakers hope to take it up this week, before adjourning for the summer recess.