There's this German saying I like (with biblical roots, Lazarus?) that goes "Totgesagte leben länger" (those condemned or thought dead live longer – than those who aren't). And it appears that Berlin's Tempelhof Airport, although not quite dead yet, might just get the chance to live up to this saying.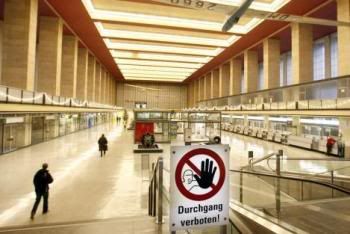 The petition going around town to force a referendum on the final closure of the historic airport has almost reached the 170,000 signatures needed. Unfortunately, as determined as so many Berliners (West-Berliners?) clearly are about keeping their airport open, even if just for small business flights, the more stubborn the Berlin and Brandenburg SPD are about turning off the landing lights for good.
One could think that those against re-thinking the closure of the definitive symbol of Berlin's finest Airlift hour are doing so for purely political reasons (think the new BBI airport, firmly planted in what was once "old" East Berlin) and that they do not wish to be reminded of this particular past. But that would not be nice nor correct so don't think it.
Anyway, let's just see what happens when the so-called ICAT-Day takes place on the weekend of 9/10 February. Public offices will be open then to accept the signatures of any Berliners still wishing to sign the petition. Personally, I hope they can still make a lot of noise before Tempelhof goes down for good. It didn't go down without a fight then (oh, that's right, it didn't go down at all), why should it do so now?
Airlift Airport? Nein danke.
Come visit me at Observing Hermann…