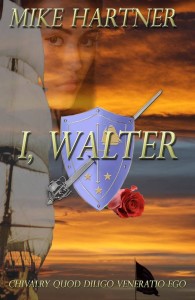 My guest today is Mike Hartner, author of the historical fiction, I, Walter. In this interview, the author tells us about his inspiration for his latest novel and what kind of projects he has in the works, among other things.

Thanks for being my guest on Blogger News today, Mike!  Can we start off by having you tell us a little about yourself?
I'm a husband, father, author, educator, geek (ret) and patriot.  I write in my 'spare' time, and very much love my family.
Can you tell us about your new book, I, Walter, and how you came up with the idea to write it?  
My editor and I had been wracking our brains with edits to a separate manuscript, and decided I need a break from it.  He asked me to focus on one particular aspect, and we found Walter's father, Geoff and one other person.   When he asked me to pick one of them and write, I found that Geoff wasn't interesting enough, but his son Walter was.   It turned out that I, Walter is the first in a sereis of books which include the previous manuscript.
Did you come up with the title and then write the book or did you write the book, then came up with the title? 
 I wrote the book first, but the title came to me nearly as quickly as the book, and it seemed the only proper title for it.
Can you tell us a little about the characters in your book?
 Walter Crofter is the main character, and it is his life.  Bart Stuart is the Commander of a boat in the British Merchant Marines that takes Walter under his wings.  Marek and George are two captains that Walter is fated to meet during his life.  Maria is his female interest, and Juan is her father.
Aside from writing, what other talents do you have?
 Talents?  How about interests!  I like tutoring and teaching matthematics to my son and his friends. I like supporting my son and his school teams in everything that they do.  I like supporting my wife by doing as much as I can to help her.  I like writing as a release.
Do you have another book on the works? Would you like to tell readers about your current or future projects?
 I, Walter is the first in a series that will span many generations and eventually end up in present day plus a generation.  Books Two and Three are being written at this time, with Book Two slated for review  in Q1 2014, and release around Easter.
Do you have a website/blog where readers may learn more about you and your work?
I, Walter is a part of the 'Eternity' series, and as such can be found at accidentalauthor.ca

More information about Mike Hartner, and my other writings can be found at www.mikehartner.com