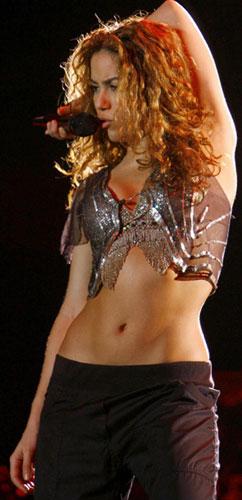 What better combination could there possibly be than the fabulous, belly-dancing Shakira and Bollywood Town, Mumbai?Rediff.com reported that 5000 people went to go see the singer perform at her first concert in India.
According to a BBC world news report I saw on TV this morning, foreign music artists are having a difficult time breaking into the Indian market because of the dominance of Bollywood music on radio stations and in record stores. My question is does Bollywood music also dominate a Hindi iTunes, and if so, how do I download that version?
Premiere choreograher Farah Khan (of Don, Kabhi Alvida Naa Kehna, Krrish, Kal ho Naa Ho and pretty much all of my favorite movies) did a Bollywood style version of 'Hips Don't Lie' for Shakira's US concert. Man, that would have been something to watch! Now there are even rumors that Shakira might do an item number in the upcoming movie Om Shanti Om!
The verdict? Shakira and Bollywood are always a good mix.
UPDATE: I think I found the "Hips Don't Lie" Bollywood number? Is this the right one? I kind of hope not. Shakira's just doing her regular thing (don't get me wrong, it's great, but it's belly dance, nothing new or Bollywood about it) with a few exceptions. There are back up dancers in Indian get-up, but the camera never focuses on them very much, except for when they're right behind Shakira and doing those same belly dance moves. Hm, belly dance appropriating Bollywood instead of the other way around. Not really sure what to think about that…
The video can be found here: Hips Don't Lie, Bollywood Style!