A wave of broken promises and tactless plans vis-Ã -vis Berlin (and the rest of Europe, so the Germans claim) by French President Nicolas Sarkozy has led many observers here to wonder if Mr. Sarkozy has maybe not accidentally mixed up Germany with the United States of America.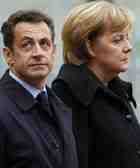 "Hello? This is Berlin calling," said one high-level French-speaking German diplomat trying to get through to the Élysée Palace to straighten things up. "Berlin as in Germany? Washington is that place on the other side of the ocean. We're the ones on the other side of the Rhine, remember?"
Not only are the Germans miffed that the French finance minister recently cancelled important talks with her German counterpart because she was ordered to accompany Sarkozy on an election-related visit to a luxury goods factory instead, the French have also just delayed a long-planned summit due to take place in Bavaria next Monday because Sarkozy's schedule has suddenly become too busy.
Then there's this so-called "Club Med" union of Mediterranean countries thing. Originally conceived as a kind of consolation prize for talks with Turkey (a country which Sarkozy does not want to have in the EU), or at least that's how the Germans see it, it has now become a big deal for the French and the merde has hit the fan and everybody has hurt feelings so there we have it.
Oh yeah, and now the French are even considering sending additional fighting troops to Afghanistan, too. Zut alors!
"We have no idea why the French are suddenly so unfriendly to us," said another disgruntled German diplomat. "I mean, I almost get the feeling that this is a manifestation of the common, everyday and worldwide relentless critical impulse toward American social, economic and political institutions, traditions and values, only this time it's directed against Germany instead."
Come visit me at Observing Hermann…