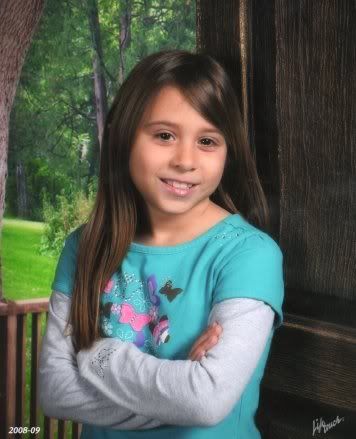 Tracy,California- Today was the  public memorial for little Miss Sandra Cantu. I call her that because it fits her well. She was an amazingly beautiful child. So much to offer the world and all who inhabit it. Beautiful carmel skin and brown hair. Hypnotizing brown eyes. Deep so passionate for the things she loved. There was seating for eight thousand at the High School she would of gone to. More then six thousand packed the high school gym to pay there respects to Sandra and her grieving family. More then six thousand. Wow, her untimely departure from this earth effected more then she will ever know. I and many friends of mine all lit candles to pay our respects. I'm sure more then one prayer was whispered today.
Sandra, it brings a tear to my eye. For her life. Cut short. Sandra was a princess to those who were fortunate enough to know her and have her in their life. I know this because at her private funeral her casket covered in messages from those people who loved her and her second grade classmates was taken the street in a horse drawn carriage.
Everyone loves Sandra. Sandra loved Hannah Montana, singing, gardening she loved her family and friends. Sandra was born on March 8, 2001. Â It's a shame she just saw her eigth birthday right before her death. She was abducted on March 27th investigators believe she died that day. Its really to bad. She was very bright and amazing. A light dimmed on our earth that is truly an unfortunate occurance. I believe in resurrection of the soul. I believe we go on to our creator. That's just me though many others believe in many other things.
Sandra was just a child. No sin, no blemishes. Nothing to keep her out of the Lords loving arms. Tracy has lost a wonderful child who would of been a bright future for their city or any other she chose to grace with her presence. I dont hold any blame on Sandra's mother. Many children in America today especially in trailer parks roam around enjoying the days. Sandra was one of them. Went out to enjoy the sun. It was sunny I saw the last image of her from her mothers survaillance system on there home. It was sunny. When she didn't come home at dark her mother called 911. I live on the west coast dusks comes at around 7:30 pm. The call to emergency was made around 8 pm. At dark. Kids do it in the park I live in. Its natural.
Sent in a horse drawn carriage I cant get that off my mind. A princess. Its an unfortunate sitution that the state of our childrens safety is in. Honestly when I was a child I use to leave in the morning and come home at dusk with no communiction with my family in between. I use to roam and roam my home town with my cousins. We use to wade in rivers, creeks, play in the woods crossing tressels.
That just isnt an option any longer in our world today. There is never more of a urgent need to create tougher laws to protect the children we have been blessed with to steward and raise to be stable, loving, empathetic parts of our society. How will they ever survive if we, their guardians dont use our rights to protect them. Sandra paid with her life. Her mother will have to endure the pain forever.
I dont think the town of Tracy will ever forget what happened to little Miss Sandra Cantu. I will never forget that her mother screamed out in terror of the news of her daughters unfortunate fate. When will we make a change. They can't do it for themselves. They can't defend themselves its not there job. It lies solely in us. Not anyone else.There aren't many options out there for parents short of twenty four seven round the clock monitoring and contact. Never leaving your sight. The only other option is having a GPS chip inplanted into your children. It may not of saved Sandra's life but it could save others? What other options are there for parents?  
I wanted to make this article only about Sandra, I simply dont know enough about her to do so. So I am going to curtail it into asking for your help. For your voice, for your heart, for your children. To act now while you, we can. Please dont let your states or government continue to allow the release of these people who seek to do harm to our children. It almost doesnt seem right putting this in her article. But there is a need for it and since she was so brutally killed by a predator it is fitting. Sandra needs us to fight for her. She needs us to take up her battle. Sandra was a warm, intelligent child. Who wouldn't want this to happen to any other child.
This is a cause worthy of battle. Our children are at stake their safety and their futures. Isnt it worth it to you to make a difference? I mean really what will it take. Everyone in the world all need to sit back and brainstorm to themselves what can I do to save our childrens futures. Is it really going to take up so much time? Isn't it worth it? Â It is to me. Please dont let anymore time escape us. For our childrens sake.
Please read and sign this petition. It was created after Sandra was found. For her, for your own kids, for your neighbors kids, for my kids. Sign this petition. They need your voice. They havent yet developed there own. Be the influence that is going to keep them from harms way. Steward them in safety and security.  Please I beg you, take the time to read this petition sign it and pass it along to everyone you know.   http://www.thepetitionsite.com/1/change-sex-offender-laws
Thank you. Sandra will always be in our hearts. Lets do something for her. Lets save other children from predators.