While thousands of Germans gathered just south of Berlin yesterday to protest a provocative neo-Nazi demonstration held to glorify fallen Wehrmacht soldiers of the Battle of Halbe, Chancellor Merkel and other government and diplomatic corps officials will be taking part in ceremonies in Berlin today marking Germany's Volkstrauertag or People's Day of Remembrance.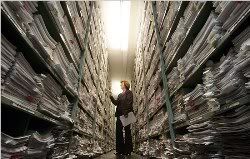 Similar to Veterans Day in the United States or Armistice Day in the United Kingdom and elsewhere, Germany's Volkstrauertag is the state holiday commemorating those killed in wars and under tyranny everywhere. Unlike these holidays, Volkstrauertag is always celebrated two Sundays before the beginning of Advent (the two major German churches also celebrate their own memorial festivals in November) and, more significantly of course, on ground zero of the country that carries the burden of responsibility for two of the bloodiest wars in history.
And although the mainstream political parties and their supporters in Halbe and elsewhere succeeded in making their statement against far-right extremism in Germany – the neo-Nazi demonstration there had actually been banned beforehand – this couldn't stop these far-right flag-wavers from gathering at another battleground cemetery near Seelow, a few miles to the east. 
And that somehow seems appropriate to me. That these zealots of the past have to wander aimlessly from one cemetery to the next, that they feel the need to have to appear on a day like Volkstrauertag, is just another reminder of what they are (or aspire to be?). Where no Einsicht (deeper understanding) can be expected, and the dyed-in-the-wool types like this will never understand, no amount of good will can ever completely exorcise them from Germany's possessed public body.
But thankfully, there is no real need to do so: They are only ghosts. These pitiful apparitions are doomed to haunt the country and wander about the place as the forgotten living dead they are. This is all that much clearer on days in which others are being remembered.
The remembered dead refuse to be forgotten and speak to us on days like today. The living dead might speak to us, too, if they could. It's just that they don't have anything to say.
Come visit me at Observing Hermann…