By Honey Gillard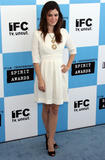 Showcasing a stunning and flattering white dress and gold necklace, the always-beautiful Rachel Bilson struts her way down the 'blue' carpet at the 2007 Film Independent's Spirit Awards.
 
With the end of the O.C becoming a distant memory; pouring tears from our eyes, Rachel Bilson talks about her favourite Californian moments:
"I like when I get to do things that really are embarrassing for me because it's fun to make fun of yourself. I like the episode last year where at prom I got really drunk and fell off the stage and it was my first time doing a stunt, so I like to brag and tell people that I can do stunts because I got to fall off the stage, even though it was like a foot. The stunt girl did the fall… but I did a little of that.
"Oh, the Spider-Man kiss of course… the Spider-Man kiss was so cool. I remember reading it when Josh wrote that script; it was really clever and it was really fun to replay that kiss. Adam, I think, threw up in his mouth a little bit, so the kiss wasn't pleasant, but other than that it was a really cool scene. It was upside down."
Rachel Bilson's is preparing to add a new film to her repertoire – Jumper, which is to be released in 2008. Oh the anticipation.
 
To read more from me, Honey, visit my blog – honeyz818.wordpress.com
 
Sources: OCblogger