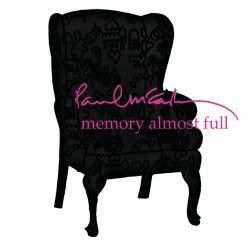 Paul McCartney: memory almost full
Hear Music / 2007
Considering June, 2007 is the 40th anniversary of the release of Sgt. Pepper's Lonely Hearts Club Band (6/2/1967) as well as being the month in which Paul McCartney turns 65 years of age (6/18/1942), I find it rather fitting that June should also mark the release of an excellent solo offering in the form of Paul McCartney: memory almost full.
This collection begins with the seemingly simple Dance Tonight, which immediately sets a tone of light-hearted fun and and proceeds to inflict an unconscious "toe tapping" in a manner of which McCartney is all too skilled. The next track, Ever Present Past, is the first single from the collection and continues the upbeat trend while serving as a retrospective reminder with lyrics like, " Searching for the time that has gone so fast / The time that I thought would last." This track, along with the following See Your Sunshine, have been masterfully produced to sound crisp and new while simultaneously sounding like two songs from Wings that could have been unintentionally misplaced, until now.
Only Mama Knows returns to the sound of Rock and Roll with a classical strings accompaniment bookending the track and is followed by the slow and wistful You Tell Me, which serves as the perfect lead-in to my favorite song on the disc, Mr Bellamy. Mr Bellamy incorporates multiple style and tempo changes with the occasional classical sounds of violins, harpsichord and oboes while having a progressiveness reminiscent of some of McCartney's early solo endeavors.
Tracks 7 through 11 are a medley of songs that include the heavily Rhythm & Blues influenced Gratitude and That Was Me, along with the traditional Rock & Roll of Vintage Clothes and Feet in the Clouds and ending with the more somber and apocalyptic House of Wax. The medley, while composed of various styles, has a distinctive cohesive quality and is best explained by McCartney in his letter regarding the release:
"There is a medley of 5 songs towards the end and that was purposefully retrospective. I thought this might be because I'm at this point in my life, but then I think about the times I was writing with John and a lot of that was also looking back. It's like me with 'Penny Lane' and 'Eleanor Rigby' – I'm still up to the same tricks!"
The End of the End is McCartney's acknowledgment that this ride can't last forever and there's no reason to be sad about it but, oddly, it is sad in a simple heartfelt way. Given enough time to dwell on the ramifications of the song, the hardcore fan could easily begin to prepare for a long period of mourning but luckily, before reality achieves too strong of a hold, the final song, Nod Your Head, rushes back into the world of upbeat, simplistic Rock & Roll. Whew! That was close.
This is McCartney facing his past, present and future in an unprecedented manner.  There are hints of John, George, his recent marital woes and the uncomfortable prospect of a world that can only remember his contributions because no more will be forthcoming.  Overall I feel this collection has something to offer everyone including the ardent follower and the casually curious and even though it may not eclipse some of his previous classics, it is, in my opinion, one of the most visible signposts on McCartney's long and winding road.
JTaylor