By being the world's sixth largest emitter of greenhouses gases, manufacturing some of the most polluting cars on the road, rejecting speed limits to cut CO2 and replacing its nuclear power with coal-burning plants, Germany hopes to set a good example for other nations at the upcoming Bali climate conference, Chancellor Angela Merkel said in her weekly podcast.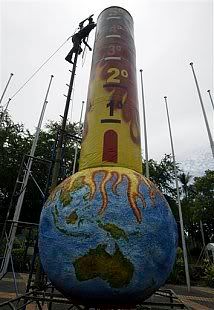 Merkel, who made fighting climate change a keystone of her government's program during Germany's presidencies of the G-8 and EU this year, said the Bali conference will be a crucial one for explaining to other nations what they need to do to help the Germans in their heroic effort to stop catastrophic floods and droughts, melting ice caps, disappearing coastlines and deadly heat waves while they eat their climatic Kuchen (cake) at the same time.
"A timetable for countries other than Germany must be decided upon in Bali under which we can negotiate a successor agreement to the Kyoto agreement by the end of 2009," she said. "Our self-imposed timetables are much more stringent than anything anyone at the conference can possibly imagine anyway so none of this will apply to us, of course," continued the determined Chancellor.
"Or do you think any other country in Bali will be able to claim that it can reduce its CO2 emissions by 40 percent while simultaneously building 26 new coal-burning power plants? I didn't think so."
Do what I say and not what I do.
Come visit me at Observing Hermann…