Just three days following the gruesome discovery of twenty dead sheep near a derailed train in a tunnel near Fulda, German police in Thuringia have now reported finding a number of dead cows near a rail crossing in their area, too.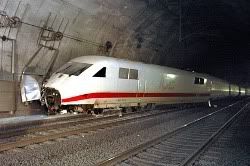 "We don't want to jump to any conclusions or anything," said one country bumpkin cop near Erfurt. "But after talking with our colleagues in Fulda, it is pretty clear to us that the killer's method of operation during both killing sprees is practically identical."
A massive nation-wide search has now begun for the mysterious killer, his description having been given to police by several dazed passengers who had been travelling on the derailed Fulda train and who just happened to be looking out the window when the killings took place or something.
According to them, the killer is between 7 and 10 feet tall and is completely covered with dark brown and reddish hair. His round and somewhat crested head appears to sit directly on his neck-less shoulders and boasts a pronounced brow ridge with a large, low-set forehead.
Should anyone out there have seen this person, please contact your local police immediately, especially if you have farm animals and live near the train tracks.
It is 11:00 p.m. Do you know where your cattle and sheep are?
Come visit me at Observing Hermann…