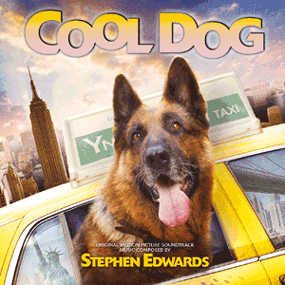 Though composer Stephen Edwards has been scoring films 1992, you probably haven't heard of most of the films he's worked on: there's a lot of made-for-tv stuff (Growing Up Brady, Monster Maker), a few distant sequels (Hellraiser: Hellseeker, Children of the Corn: Revelation), and some Steven Seagall action flicks (Today You Die, The Patriot). But mixed in among the horror, action, and melodrama, is a 2007 family film by director Danny Lerner called Finding Rin-Tin-Tin about a German Shepherd in World War I. More than anything else, the music for Cool Dog is a continuation of that same type of theme, and not just because it's a family film starring a German Shepherd.
As Edwards states in a brief interview by Mikael Carlsson in the liner notes of the album, "the warmth and human quality of orchestra is a perfect way to convey the heart and emotion of a story – especially when much of the emotion is directed to Rainy, the German Shepherd dog that stars in the film." So, there's a sense of buoyancy present throughout the album, a lightness that comes from following the adventures of a dog through the streets of New York. And aside from the occasionally grating and electronic "Bug the Exterminator," Edwards holds true to that sense of playfulness and style, letting the City of Prague Philharmonic Orchestra lightheartedly step their way through his composition.
Though there's nothing especially bad here (it's all fairly enjoyable stuff) there's nothing especially memorable to be found in the 45 minutes of music included on this album. Each of the 21 tracks blends in nicely with the last but as a whole the music collected here doesn't necessarily take on a life of its own, drifting instead towards common family movie tropes. Listen to the slight hints of danger in "Illegal Pet Shop Chase" or the gentle victory of "Raney the Hero" and you'll see what I mean: though Edwards handles it nicely, it's all very familiar territory.
Zach's Rating: B-
Perfect For: A lighthearted soundtrack for a sunny day
Stay Away if: You want something bold and new
To purchase the soundtrack for Cool Dog, visit Movie Score Media