In 1997 a phone booth in an isolated spot in the Mojave Desert became a popular destination for independent travellers. Its number was posted on the internet and people were encouraged to call it. Campers then began converging on the booth in the hope that the phone would ring and they would connect with someone in a faraway place. The booth's fame was spread by CNN and other international media. It became so popular that in 2000 the National Park service asked the operator, Pacific Bell, to remove it. Apparently they were concerned that campers would damage the desert ecosystem.
Despite its demise, the booth was not forgotten. Its story caught the attention of movie director John Putch and he decided to give it a pivotal role in a very personal film project. He also named the film after it: Mojave Phone Booth.
Putch began his entertainment career on the stage of the Totem Pole Playhouse, a summer theatre in Pennsylvania run by his father. After working for some time as a television and film actor, he moved into directing. Putch's credits behind the camera include episodes of Scrubs and other TV series, as well as films for the Hallmark Channel. Unimpressed by Hollywood's bloated budgets, however, he chose to make his own movies without the backing of a major studio. Mojave Phone Booth was an explicit expression of that independent approach. It was a deliberate attempt to show that interesting movies could be made with few resources.

When preparing Mojave Phone Booth, Putch established a set of guidelines based on those used by Dogma 95 director Lars Von Trier. One of these was that the film's budget should not exceed $38,469.49. Another was that the production should use only as much equipment as would fit in one car and an SUV. Putch also insisted that his cast take care of their own wardrobe and appearance and drive themselves to and from the set. Although he expected these sacrifices, Putch made it clear that no-one would be paid upfront. Instead, those involved would be shareholders in the film and their financial return would be influenced by its quality.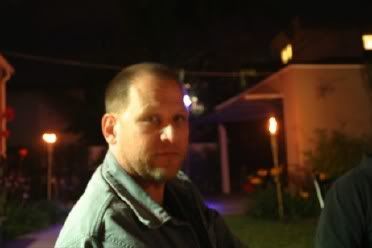 Putch (left) was aware that his rules would make Mojave Phone Booth a risky project. Yet he had no trouble in attracting a stellar cast and crew. The actors that joined him in the desert were a mixture of well known names and young up-and-coming performers. They included Annabeth Gish (The X-Files, The West Wing), Steve Guttenberg (Cocoon, The Poseidon Adventure, Veronica Mars), David DeLuise (BachelorMan, Stargate SG-1), Missi Pyle (Galaxy Quest, BachelorMan), Robert Romanus (Fame, The Facts of Life), Larry Poindexter (Blade: The Series) and South African-born actress Tinarie van Wyk Loots (H.G. Wells' War of the Worlds, The Poseidon Adventure).
Over the last two years Mojave Phone Booth has been doing the rounds at film festivals and the response from juries and audiences suggests that Putch and his Mojave Phone Booth Collective achieved their objectives. Mojave Phone Booth won the Audience Choice Award for Feature Films at the 2006 Kansas International Film Festival and the Audience Award at the recent Oxford International Film Festival. Other awards include Best of Fest Selection at this year's Palm Springs International Film Festival, Jury Awards for Best Feature (2006 Stony Brook Film Festival and 2006 Del Rey Beach Festival) and Best Indie Feature (2006 Wine Country Film Festival), and the Best Picture , Director and Screenplay Awards at the 2006 HD Festival.<!–[if !supportLineBreakNewLine]–>
<!–[endif]–>
Further recognition for Mojave Phone Booth is likely to be forthcoming. Festivals at which the film is scheduled to screen this year include Seattle's True Independent Film Festival (May 24-June 3), the Dead Center Film Festival (June 6-10), the Staten Island Film Festival (June 20-24) and the Idaho Film Festival (September 27-30).
Putch doesn't have a general distribution deal for Mojave Phone Booth but clearly he, too, sees the film as a success. He is already in preproduction on a similar project, Route 30, which is being made using a similar approach. Unlike some of the visitors to the original booth, John Putch doesn't wait for the phone to ring.
Sources: Mojave Phone Booth movie website, Original Mojave Phone Booth website
Michael Simpson is the Associate Editor of the Vancouver-based film and TV website CinemaSpy and a freelance writer on a wide range of topics (CinemaSpy; Home).