In what was up until recently thought to be purely impossible for German teachers to achieve, numbers now indicate that the cases of Dienstunfähigkeit (disability for service – not to be confused with inability of service – really early retirement, in other words) for German teaching mandarin-type class profession professionals has dropped considerably and that the majority of German teachers actually makes it now all the way to the age of 63 before taking your every day regular run-of-the-mill early retirement then.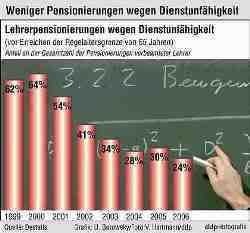 Many experts who do not wish to be named believe that this miraculous recovery is directly attributable to an increased number of visits by German teachers to Lourdes in recent years but nobody wants to say where they got these numbers or even what these numbers might be. Others believe that German teachers have come to understand that they have an obligation to the society in which they live and that they should give at least the minimum if not more than that which is demanded of them in order to make the world a better and more wonderful place to live, uh, in.
Needless to say, both of these ridiculous theories are being scoffed at by other more expert-type experts who are convinced that they know the real reason why: Ever since the German government decided not to pay out the full retirement benefits for Dienstunfähigkeit retirement, German teachers suddenly and miraculously decided that "hey, disability ain't so bad after all."
Disability, datability. You gotta do somethin', you know?
Come visit me at Observing Hermann…