A Business Today issue with a cover page showing the famous Indian  Cricketer Mr M.S.Dhoni has attracted legal action in Bangalore. The magazine depicts Dhoni as Lord Vishnu and shows holding several products in his hand  including a shoe.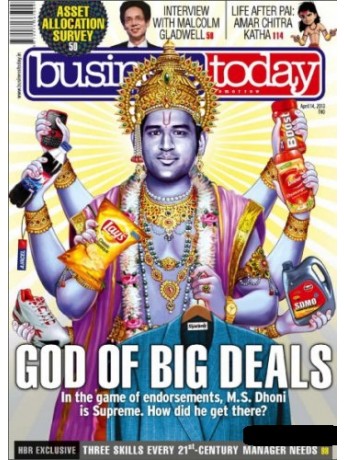 A case has been filed in Bangalore by an advocate  for the reason that the picture is hurting the sentiments of Hindus.
It is not clear if the picture is an advertisement modelled by Mr Dhoni or a cover page image created by Business Today. If this a creation of the business today art director, legal action has to be taken against the art director and the editor of the magazine. Mr Dhoni in that case needs to initiate his own legal action against Business Today.
It is alleged that the magazine is on stands since April 14 and Dhoni has not taken any action in this regard.
Hence a clarification is required to be given by him immediately.
Naavi