Communism just ain't what it used to be, folks. And let's all work to keep it that way. One of Berlin's top communists (honest, they really do still exist here), Sahra Wagenknecht is certainly doing her level best to contribute to this heroic, international effort, so make damned sure that you do your best, too.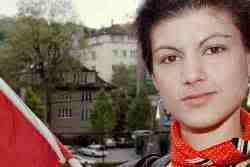 Recently having ordered a "rich man's dish" of lobster at a Strasbourg restaurant, the Stalinist Left Party sweetheart apparently didn't think to send it back for some pale soup and stale bread in time and was caught on camera betraying her party, her past, and her lofty political ideals, ideals which clearly leave no room for capitalist stalk-eyed decapod crustaceans like that. Some say she even ordered Coke with her L Word, too.
And this at a time when her party generates the few votes it gets by selling what it packages as being the growing inequality between rich and poor in Germany. How shocking.
And more shocking still, Wagenknecht is believed to have then launched an unauthorized communist plot of her own to have the not-yet-infamous L Word photos destroyed before they could be published. Like I said; like how more shocking still.
By the way, they call lobster Hummer over here and I, for one, would not be the slightest bit surprised if the next photographer catches her driving a real Hummer down Unter den Linden before all too long (red-flagged, of course), know what I'm sayin'?
Come visit me at Observing Hermann…