The vicious wave of young criminal attacks in Germany will simply not let up. Two men were placed in temporary protective custody in Berlin on Thursday after defending themselves with attack dogs they had let loose upon four Jewish students aged between 15 and 17 who had been
provoking
the men by being four
Jewish students
aged between 15 and 17.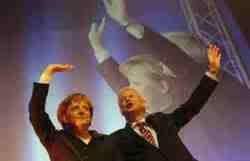 In light of the ever-growing tension caused by what now appears to be a well-organized and concerted, nation-wide foreign delinquent rebellion, the German government, or the state of Hessen at least, is said to have now begun planning an hourly train connection to its new and quite distant "Gulag Germania" high-security re-education facility located somewhere near Krasnoyarsk, Siberia.
Berlin's governing mayor, Klaus Wowereit, called the provocation racially motivated and said it was "intolerable or something", adding "If Berlin had any money, we would organize one of those camp thingies, too. Berlin used to be leading in this field, you know."
CDU spokesmen in Berlin couldn't agree more but don't really want to do it right-now-at-this-moment-publicly because the populist rhetoric re-election campaign launched by Hessen's Minister President Roland Koch has slowly but surely begun to blow up in his happy Hessian face.
Fass Blondie! Fass!PS: The Hessians fought with the British way back when when we didn't like them and stuff, you know.