This one isn't.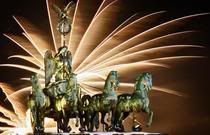 It still hasn't stopped in Berlin, "poor but sexy" as it is. And in a way, the party hasn't really stopped here since the World Cup euphoria got the Berliners and everybody else in the country walking upright again this summer. That's why this year's New Year's Eve motto "Welcome 2007 – Die Party geht weiter!" (the party goes on) really seems to hit the nail (zeitgeist?) right on the head.
Chancellor Merkel and her party seem to be kicking into party mode these days, too. It seems as if her compatriots are finally prepared to accept that Germany has to continue pressing forward with economic reform in order to remain competitive in a globalized world, as she reiterated yesterday. At least one survey seems to indicate as much.
While the SPD predictably warns that the Germans' capacity for reform is at an end (when in fact this reform party has only just begun – and everybody knows it), Angela Merkel is beginning to represent an honest and realistic approach to tackling Germany's anachronistic and unaffordable welfare state, and her politics and party seem to finally be finding some resonance – halfhearted as her attempts have been thus far.
"To be able to survive amid worldwide competition, we must push ahead with structural reforms," Merkel wrote in an article for the Handelsblatt. "Work on the necessary reform projects in Germany will continue undiminished over the next year."
And as far as this year's party in Europe, for Europe, is going, it's hard to see at first glance just exactly how Germany's presidency can get it started again. The French and Dutch no to the poorly-sold European constitution, among other things, has created some formidable anti-EU, Eurosceptic thinking all across the continent, and rightly so. But if "Europe is process", not a product, then perhaps Germany might just be the nation of the hour, or of 2007, at least.
After all, the Merkel government has finally begun pointing the way for its country's way forward with a sense of realism. Maybe the Germans can get Europe to finally come back down to earth, too. We'll know more in six months from now, when the party is finally over. I mean, not even Berlin can party on forever.
Come visit me at Observing Hermann…