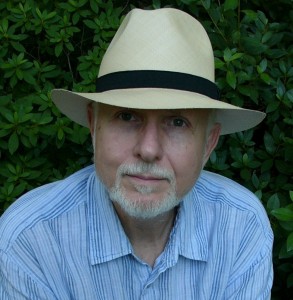 John Ames has a master's degree in English from the University of Florida, where he was a Ford Fellow. After graduation, he built a rustic house and lived for several years on the edge of a spiritual community located near Gainesville, Florida. John's search for enlightenment ended when he decided that he was too far from a movie theater. He moved inside the Gainesville city limits and taught English and film for thirty years at Santa Fe College.He has produced and acted in numerous short films and videos, including the cable TV series the "Tub Interviews," wherein all the interviewees were required to be in a bathtub. For ten years he reviewed movies for PBS radio station WUFT.  He has appeared as a standup comedian and has designed and marketed Florida-themed lamps.  He coauthored Second Serve: The Renée Richards Story (Stein and Day, 1983) and its sequel No Way Renée: The Second Half of My Notorious Life (Simon & Schuster, 2007), and Speaking of Florida (University Presses of Florida, 1993).
His recent book is a coming-of-age novel titled Adventures in Nowhere.
You can visit his website at www.johnamesauthor.com.
Q: Thank you for this interview, John. Can you tell everyone what your latest book, Adventures in Nowhere, is all about?
John: Adventures in Nowhere is about a droll ten-year-old boy who is thoughtful beyond his years and needs all of his cleverness to cope with his difficult home life. Danny Ryan's father is dangerous and overpowering, one sister is seriously ill, the other is an emotional time bomb, and his mother is overworked. They are all stuck in a little three-room house where they can't get away from one another. Ironically, the house is located in a beautiful spot that would be a wonderland for the boy if things weren't so bad at home. As it is, Danny thinks he is stuck in nowhere, but nowhere does offer a wealth of eccentric characters who draw him into an adventure that leads Danny to an odd triumph. Though he sometimes doubts his sanity along the way, Danny eventually comes to realize that the ugliness in life is balanced by great beauty.
Q:Â  Is this your first book?
John: I have coauthored several books. Two Renée Richards autobiographies, Second Serve and No way Renée, are the best known. However, Adventures in Nowhere is my first novel.
Q: Why did you decide to write a coming of age story?
John: I decided that I would write a novel using as inspiration the people and places I knew while growing up in Tampa during the 1950s. The problems of Danny Ryan, the novel's central character, are similar to the ones I faced as a kid. I wanted to give Danny a moment of triumph and understanding that I did not experience in my childhood. It was only after I finished that I discovered I had written a coming-of-age story. So the genre chose me.
Q: Can you tell us all about your main character?
John: Danny Ryan has been described by one of my readers as the most thoughtful little boy in history, but part of that impression comes from the fact that his thoughts are the only ones readers are given. Danny analyzes his world with the mental tools he has, and he battles his problems with surprising wiliness. He does not think like an adult, but his take on adult problems puts them in an interesting new light. Danny feels quite alone, but he finds diversion through the quirky characters he meets in his rural neighborhood. His challenge is to trust in their good intentions and quell his fears enough to accept the gifts they offer.
Q: Interesting that you have produced and acted in numerous short films and videos.  Would you like to tell us more about it?
John: The things I did were on a small scale. The ones that were most widely seen were the Tub Interviews, a series I did with my friend Henry Rowland. I did the interviewing and Henry did the camera work. The interviewees were required to be in a bathtub for the interview. Some actually took a bath and others just sat in the tub. We showed them on the local cable channel and they were picked up by a cable channel in Orlando. It was amusing to think they might be going into hotels in Disney World. Our mock documentary, Trail of the Skunk Ape about Florida's Bigfoot achieved something of a cult status in Gainesville. I was told that high school students organized trips out onto our local geological landmark, Payne's Prairie, to track the cagy skunk ape.
Q: In your opinion, what is the key ingredient for writing great coming of age stories?
John: I don't know if I would set myself up as an authority on the subject, but what I keep in mind is that character, not action, is the most important thing in coming-of-age plots. If readers aren't genuinely interested in the main character, they won't care about his or her growth. If that happens, you might as well not have written the book.
Q: Finally, I like to ask authors this question.  What is your passion?  What is it that you're more passionate about than anything else?
John: The closest I come to having a passion is an obsessive drive to finish a project. In the last couple of years, I have put hardwood floors in my house and remodeled my kitchen. I do all the work myself, and I keep working like a madman until the project is finally done. A few months ago I spent 18 straight hours cutting tile for my cabinets. Getting it done so I can take a nap is my passion.
Q: Thanks for the interview, John.  Do you have any final words?
John: Bamboo flooring works surprisingly well in a kitchen. Oops, still thinking about remodeling. I mean thank you for taking an interest in my writing.