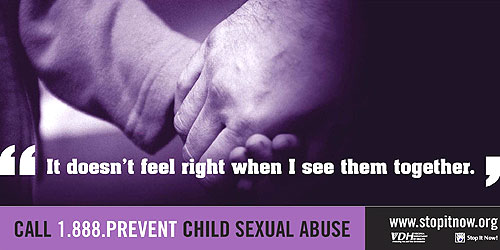 If dad goes for a walk with his daughter and holds her hand, apparently Virginia Department of Health officials wants you to pick up the phone and destroy his life by reporting him as a possible sexual abuser. I would've thought this article about this campaign was from the Onion or some satirical publication, but it's for real.
One of the most beautiful pictures I've ever seen is a picture of my father walking on the beach near sunset holding my daughter's little hand. The picture above of a man holding a child's hand–a touching little scene–is actually supposed to make us think he's sexually abusing the child. Unbelievable.
From Campaign advocates recognizing, reporting suspected abuse (Norfolk Virginian-Pilot, 6/21/07):
"For years, campaigns to stop child sexual crimes have focused on encouraging children to speak up about abuse.
"State health officials are trying a new tactic. The latest push, at least in Hampton Roads, is to educate adults on how to spot – and stop – sexual offenders.
"The 'Stop It Now' campaign – just launched locally – will urge people to call a help line if they see an adult whom they suspect of having a sexual relationship with a child.
"Billboards and posters show an adult hand holding a child's hand, with the words: 'It doesn't feel right when I see them together.'
"A national help line number is listed, and through it callers can get advice about what to do.
"Rebecca Odor, who directs the sexual and domestic violence prevention division for the state Department of Health, said officials hope to reach people who might feel uncomfortable reporting a relative or acquaintance to law enforcers.
"'We want to teach them to trust their instinct and, if it doesn't feel right, take action,' Odor said."
To write a Letter to the Editor to the Norfolk Virginian-Pilot about Campaign advocates recognizing, reporting suspected abuse, click here.
Rebecca Odor's publicly listed contact information is becky.odor@vdh.virginia.gov and 804-864-7740.
To read more on similar issues, visit Glenn Sacks' blog at www.glennsacks.com.