By 7:30 Friday night I had my iPhone and was ready to plug it in. Unlike traditional cell phones you don't activate it when you buy it but at home via Apple's iTunes. I unpackaged everything and was impressed with what the iPhone comes with. First there's the charger, but I was happy to see a cradle come with it. That's such a nice feature. There's also a set of earphones with a microphone so you don't have to unplug to answer the phone.
The box itself is beautiful. It's a glossy black finish with a nice organizational holder for each of the included items. There's even a nice piece of black apple branded cloth to wipe off all finger prints you can see ended up on there immediately.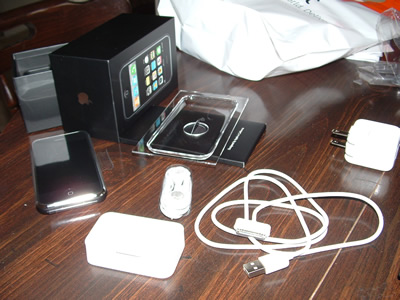 The phone is small and about the size of a Motorola Q, or a late model Compaq iPaq. It is bigger than the standard flip phone and takes some getting used to if you're making the jump.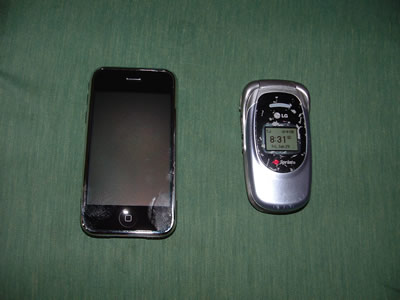 Setup was pretty simple. All you do is plug in the iPhone into your PC, turn on iTunes (make sure you have the latest version and XP service Pack 2) and it recognizes the new device. Then it prompts you put in your phone number, your account number and a few other items like billing information and voila… your phone is still locked!
What?!?!
Well since I was transferring my number from Sprint they emailed me saying:
AT&T is now processing your activation. You will receive an email confirmation once your activation is complete.  That was at 9:15 Friday night.
I got my confirmation email at 1:07 Saturday afternoon and boy was I excited! I quickly ran upstairs, plugged back in and iTunes started the registration process. When it was done, after only a few minutes, the phone was unlocked.  The delay was likely due to high traffic because of the excitement of the new device and an untested server load.  Still not a huge problem to have to wait.
I made the maiden call to my mom who said I sounded like I was in a tin can, but eventually sounded better as the conversation went on. The audio quality on my end though was crystal clear.
Next it was off to YouTube to view a friend's mini movie. Unfortunately I don't think that all YouTube videos are available on the iPhone so I looked up Van Halen. It took a while because the typing program thought "Halen" was a typo for "Galen" But eventually I got there and was able to view the video for "Jump". The only disappointing thing is that when watching videos the speakers are on only one side giving you only a mono sound. This is easily resolved by plugging in headphones.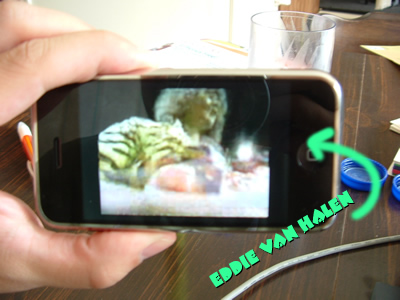 Next I used the wireless web to look at my blog, looked up directions to my house (even though I was already there) on Google Maps and read my email online!  I eventually used the built in Google Maps to find directions to a party later that night. It's much easier than printing.
The web surfing is noticabally faster when using local WiFi, but even when I don't have access to that I don't really have any lag issues for jumping around websites.
One of the coolest features is that depending on how you hold the iPhone the web page or photograph you're looking at will re-orient itself. There's also a cool way of zooming in by touching 2 points on the screen and moving your fingers away from each other to zoom into that area. It's strait out of "Minority Report".
This feature helps because the camera on the iPhone, while clocking in at 2 Megapixles, produces some nice quality images.  Though direct sunlight is required and there's no zooming feature for long-shots.  The large display helps you get your photo right. It would be nice to have a picture mail feature that does not require you to use your Yahoo, AOL, or Gmail account. But pictures are transferable to your PC for other applications.
I loaded some music and videos on there. I have an episode of Lost on there right now and it looks and sounds brilliant. Even when using the iPhone in direct sunlight you can see everything as clearly as when it's in a dark area.
One disappointment was that you can't use music from your iTunes library as a ringtone. The included ringtones are pretty lame, but I think that's just AT&T wanting you to download tones for a fee. There is internet rumor that for $0.99 you can sample 30 seconds of songs in the iTunes store for use as ringtone, though that feature was not available on my version of iTunes.
Overall I've  never had so much fun learning a new cell phone.  Even just sitting on the couch and surfing the web for a few hours was a lot of fun on that tiny screen.
There are plenty of ways the iPhone could be improved, but for a first effort in the phone market, Apple has hit at least an RBI if not a home run.