Having podium discussions between former secret police thugs and academics has a long tradition in Germany. Or at least I think it does. It certainly should, anyway. Where else on Earth could you imagine having a discussion like that? But a planned "forum" in Berlin on the Stasi - more specifically about its activities abroad - had to be canceled because somebody somehow noticed at the last minute that this maybe-sort-of wasn't such a good idea after all.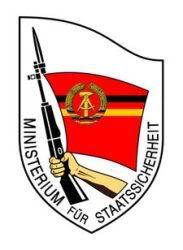 It appears as if there is still a large enough number of Stasi-Beschädigte (victims mauled or damaged by the Stasi) in and around Berlin to take offense to letting former Stasi offenders set the stage to propagate their relativierte (qualified) take on the not-so-distant German past. No, you're doing it again: Not that one, the not-so-distant German past after that.
Billed as a "critical academic analysis" of the ruthless Stasi organization, prospective participants eventually realized what it would really be: A-good-old-buddy-Cold-War-story-telling white-wash-splashing Stasi summer camp where the final analysis would just have to be "it wasn't all that bad after all". The Stasi archives authority BStU withdrew its participation in time, its director Marianne Birthler saying in a statement that no expert from her office would be allowed to take part.
So now everybody's all dressed up with nowhere to go. Don't worry, they're used to it. But it's too bad, really (not). Perhaps they would have had a good time yesterday here instead.
Come visit me at Observing Hermann…