Visibly shaken by the recent brouhaha caused by ZDF's cancellation of the popular Volksmusik TV classic Lustige Musikanten, Heino Himself clearly finds this to be anything but lustig (merry, funny) himself and has temporarily descended from Volksmusik Olympus to vent his wrath upon young and dynamic program directors everywhere. And he's not even dead yet or anything.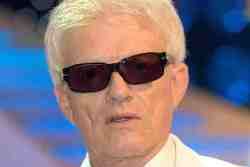 Heino Himself believes that öffentlich-rechtlich (public law) institutions like German television have the obligation to respect their viewers' wishes. Worse still, he also believes that ZDF should broadcast more Volksmusik than they already do. He has even incited rebellion by suggesting that the invariably older Volksmusik fans and content providers like himself should start deducting one "Volksmusik euro" from the television fees they have to regularly pay here out of protest to the new ZDF policy: Finding the more commercially desirable younger target groups up to 49 years of age.
Heino Himself notes that these Volksmusik shows all still have great ratings and that the German population is actually aging, making this under-50 group less relevant than the program directors would have us believe. Unfortunately for the rest of us, these are good arguments. And Hieno Himself never rests, much less sleeps. That's the real reason why he wears the sunglasses. So stay tuned or something.
Come visit me at Observing Hermann…