Who would have thought that? Not only has a survey come to the shocking conclusion that the Germans are actually a "happy people", it has also broken ground for the revelation that going on vacation is number one on the German hit list. Of things that make them happy, I mean. Wow. I sure hope this survey didn't cost anybody a lot of money. I could have told them that one for a cup of coffee.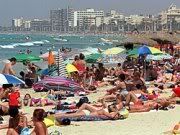 And it doesn't really matter where Germans go on vacation to be happy, it seems. The main thing is Hauptsache weg (that they go). At least that's what the Allensbacher Institute for Demographics has to report, on special assignment for "Emotion" magazine. Hmmm, maybe if the folks at Emotion feel the need to do a study on happiness like this they're not getting enough vacation. Would somebody please report this to whoever it is one reports this to?
Number two on the happiness index? Falling in love (boring) gets 73 percent of the vote. After that comes being together with people and having friends and stuff (bah) with 63 percent. Passing a test (any test, I guess) lands you fourth place on the stairway to happiness heaven here. Old-fashioned dirty love (as in sex) only got 56 percent of the vote and a shabby seventh place. Work and children got a few votes, too, somewhere, but the pollsters got really annoyed with these losers and stopped counting them shortly after the competition began (yawn).
So what are the Germans going to do with all of this new-found happiness now that they've, uh, found it? Hard to say. Once they come back from vacation to celebrate the results, I mean. And besides, some German scientists are very skeptical about these results. 
At least one German trend specialist has been reading between these numbers and believes that the Germans are in fact that what they have always held themselves to be: "Romantics with a heavy leaning toward apocalyptic attitudes and demise and a skeptical view about a would-be bleak and dreary future."
Like hey, whatever makes you happy. 
Come visit me at Observing Hermann…