If you are old enough to remember the moon landing, you probably watched it thanks to the Parkes Observatory in New South Wales, Australia.
But this week, the word Lunatic takes a different meaning in the town, which is holding it's annual Elvis Festival, an event that started in 1993 as a way to attract tourists.
The BBC reports:
This year's carnival features a host of look-alike and sound-alike competitions, an Elvis art show… …The event now attracts more than 7,000 fans and features dozens of concerts and competitions….

| | |
| --- | --- |
| | For whatever reason it works, honestly can't explain it but it really does work |

There are Elvis lawn bowls and golf challenges, as well as a cheeseburger eating contest, which pays homage to one of the American singer's favourite snacks. There is also an Elvis-themed Gospel church service.
There is even an Elvis themed train to take you to the festival:
The train's staff were dressed as Elvis and passengers enjoyed live entertainment all the way.
Last year's festival even made the Guiness book of World Records for the most Elvis impersonators singing together: 147 men singing "Love Me Tender".
The Elvis Information website even has a photo of the famous occasion: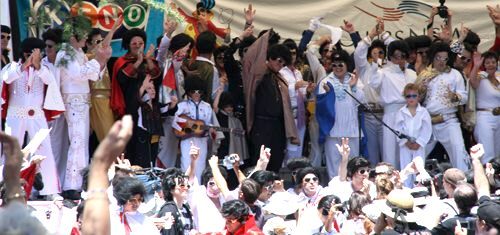 not bad, considering it was 34 degrees C at the time…
For those of you who couldn't take a couple days off to fly to Australia to celebrate the King's 73rd birthday last week, you might try something simpler.
KathleenEarlyPatterns has instructions on crocheting your very own Elvis doll…while listening to 24/7 Elvis Radio, of course…all Elvis all the time…
———————-
Nancy Reyes is a retired physician living in the rural Philippines. Her webpage is Finest Kind Clinic and Fishmarket.