After hearing about the new Greenpeace "Plan B" climate protection plan, in which Germany turns off all of its nuclear power plants by 2015 while still maintaining it can cut 40 percent of its CO2 emissions by 2020, the Merkel government, not wanting to be topped in matters concerning environmental correctness, has apparently come up with a new plan of its own (let's call it "Plan C"), in which this same 40 percent reduction is claimed to be attainable while simultaneously constructing 26 coal-burning power stations.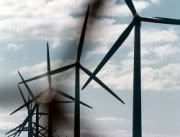 Currently at the forefront of European efforts to cut greenhouse gases, the German leader then expressed the hope that this ambitious new plan of hers will inspire similar environmentally-friendly action by others – particularly China and the United States.
China is the world's biggest consumer and producer of coal and is expected to surpass the US as the world's No. 1 greenhouse gas emitter in the next few years, for instance. And its leadership, keenly interested in and encouraged by Germany's stunning example, is now planning to announce an even more ambitious Chinese "Plan D" next week, in which it will look you straight in the eye and say that it can cut CO2 emissions by 95 percent while building 180 new coal-fired power plants.
The United States, lagging behind as usual, has no such plans at the moment. Die Luschen (the wimps).
Come visit me at Observing Hermann…