In a further attempt to bring the Teheran regime to its senses as it persists in its hell-bent pursuit of nuclear weapons, the German government is about to give its okay for E.ON AG to buy an annual 2.5 billion cubic meters of natural gas from that country.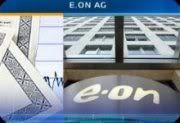 E.ON is Germany's largest power provider and third-largest industrial group.
"There is nothing that would specifically prohibit E.ON from signing the deal with Iran," one unnamed official working for the German Federal Office of Economics and Export Control told Focus Magazine. "So we are confident that this massive purchase will make it very clear to the Iranian government that Germany and the European Union really mean business whenever they talk about economic, uh, pressure."
Several other major European energy firms have shown great interest in entering into gas deals with Iran in recent months, despite the mounting political and economic pressure on Tehran from the United States – and lots of mean and nasty talk coming out of Brussels. Many experts now believe that the coming E.ON deal will bring these companies to their senses, as well, and make them realize that lucrative trade deals with Iran are simply out of the question at a time like this, sort of.
Come visit me at Observing Hermann…