Not only do Germans generally detest their own school system and continually go out of their way to point out its many shortcomings publicly (they never actually really change anything, of course), see PISA hysteria, they nevertheless insist that every German – and they mean every single one of you ought there, damn it – gets an opportunity to enjoy its many wonderful benefits, whatever they are.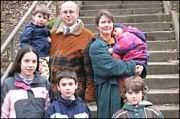 That is why state officials recently just had to take away Hubert and Gudrun Busekros's 15-year-old home-schooled daughter and place her Christian butt in a psychiatric ward because she was suffering from "school phobia." And now three more German families have issued an international appeal for help against what they see as being the German government's stepped up persecution of Christian home-schooling families here.
Like, take a chill pill already people. Everybody knows that father, I mean, Vater Staat (Father State) knows best. And once you start letting people teach their kids at home, where will it end? In Britain, for instance, an American-based evangelical organization is funding a lawsuit brought by a Christian man who was fired for refusing to work on Sunday. Germans already refuse to work on Sunday (and a whole bunch of other days, too), so like where is this going to lead here?
And who cares that the UN has condemned the German education system as being inflexible and intolerant. Being inflexible and intolerant has a long tradition here. It's kind of like going to church back home.
So lighten up. Because in all fairness, German schooling might have its problems and all, but at least it gets the kids out of the Haus now and then. 
Come visit me at Observing Hermann…