In a way cool and relatively new ritual established to, well, establish something relatively new and cool like this, German civil rights activists have published their annual Grundrechte-Report (basic rights report), hot on the heels of the government's annual (take a deep breath here) Verfassungsschutzbericht (The Federal Office for the Protection of the Constitution's Report), an annual study of extremist political movements active in Germany.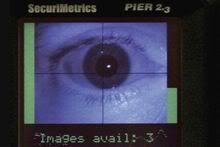 These activists are "insgesamt beunruhigt" (for the most part concerned) about the results of their report this year. But how could they not be? They're friggin' German civil rights activists. That's just what one does here, people (whether Verfassungsschutz or civil rights activist). Get concerned, I mean.
It goes like this: The government produces alarming numbers about the rising threat posed to the public by Islamic and neo-Nazi terrorist groups and then the people behind the Grundrechte-Report counter by producing alarming numbers about the rising threat posed to the public by the government that just alarmed them. It's a Nobel Peace Prize/Alternative Nobel Peace Prize kind of thang, or Academy vs. Golden Raspberry Award, if you prefer.
At any rate, if you want to believe these folks, it looks as if Germany is about to turn into a giant prison camp at any moment. The society is being "Guantanamized" or something and the state is stomping all over everybody by allowing such unspeakable things as police searches (with warrants) at suspected terrorist's homes, all of this solely due to Sicherheitshysterie (security hysteria), of course.
And it's true, too, I suppose. I thought that planned train bomb attack last year was absolutely hysterical.
Come visit me at Observing Hermann…