It seems things are working out so well on the stock market these days that private households in Germany got 240 billion Euros richer last year. "The Germans have never been wealthier than they are now," said the author of a study published by the Dresdner Bank.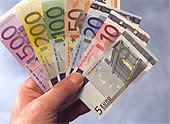 The German Dax went up 22 percent last year and these stock market profits helped private incomes climb. They have climbed so much, in fact, that the two year stock market bloodbath which began back in 2000 has now been compensated for.
Like, hello? So it's not enough that the Germans have been export Weltmeister for the fifth year running, now they're muscling in on the world's wealthiest, too?
But wait, that might be eine Nummer zu hoch (a size too big) for them. Despite the excellent development, German investors remain just as cautious as they have been in previous years, the study says. New investments are rare, the Germans preferring to take profits instead, and to put their money in more traditional and conservative though less profitable investments like savings deposit accounts.
And that might just help explain why so many high-income German individuals often walk (or are driven) around here so grumpy and irritable looking all the time: No risk, no fun.
Come visit me at Observing Hermann…