After recent calls for Germans to save the world's climate problems by vacationing at home, the next logical step has been taken and calls are now mounting for Germany's stuffed animal population to start pulling its lightweight and begin vacationing here, too.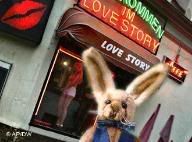 As all German stuffed animal owners know, or think they do, it is very stressful being hugged and tickled and pampered over all day long and furry little infantile toys that are subjected to such treatment need to go on an occasional holiday now and then, too. At least the German-made ones do. And that's the law here. I think.
But sending them off to Bangkok or Peru just isn't in the cards at the moment so German fur ball pet owners are biting the bullet and beginning to book more and more domestic vacation packages for their deadbeat darlings these days. Companies offering last minute weekend and other getaways for stuffed pets have been opening up all across the country and the Kuscheltier (cuddly toy) vacation business is now booming. And don't pretend like you don't believe me because you know you do.
This problem doesn't present itself for everyone, of course. I, for one, keep all of my Kuscheltiere locked up in an old freezer down in the cellar so none of this is of any real interest to me. But I actually know lots of pathologically affectionate Kuscheltier fans out there who would actually consider doing such an awful thing (or already have and won't admit it).
And besides, I couldn't just send off one of my deep frozen fur puppets to a place like Berlin without having a good look at the terrain first. This place is a heißes Pflaster (jumping as in rough neighborhood), after all. My suggestion: Take a good look at 3D Berlin first before booking your teddy bear's EasyJet flight (oops, there goes the environment again).
Come visit me at Observing Hermann…