As we all know, a good Lebenslauf (CV, resume or résumé, if you prefer) is a very important first step when looking for your next job. Even in Germany. Or especially in Germany, I should say. In fact, the only real difference I can find between German Lebensläufe and resumes elsewhere is that the German Lebenslauf  tends to be several dozen pages long. Germans just like to read more than other folks do, you see.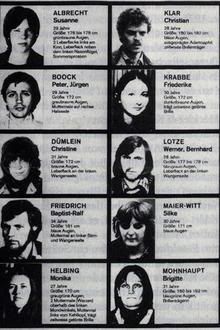 But like anywhere else, a good resume here also focuses on one's accomplishments and achievements. You want to make sure and tell your prospective employer what you've done in your past to stand out from the rest of the applicants by showing them that you have a history of going that extra yard to make yourself a valuable asset to the company or, in this case, the state-run learning institution.
At any rate, it turns out that another RAF ex-terrorist is in the news again. After going that extra yard by allowing her murdering accomplices entry into her "Uncle Jürgen's" home (family friend and Dresdner Bank boss Jürgen Ponto), who was then killed by them of course, ten years of hiding in the GDR, arrest and a short prison break in the early nineties, it appears that Susanne Albrecht has been working vor sich hin (away) as an elementary school teacher in northern Germany. Damn. Now we know why the German kids don't always do that well on those PISA Study tests. Nobody is taking the time to test them on how to fire automatic weapons.
Only in Germany, you're thinking? Wrong. Wait a minute. Doch (no), you're right. Of course something like this could only happen in Germany. But that's just the way it is over here. It's a very politically active nation, you see. It apparently always looks good on your resume, too.
And I don't want to start any rumors or anything, but that one woman up there on the second row bottom right looks way too much like a younger Angela Merkel, if you ask me. But of course you're not asking me.
Come visit me at Observing Hermann…