In a sensational bid for leadership of the staunch and stuffy conservative German Christian Social Union (CSU), sensational looking Gabriele Pauli has suggested that marriages automatically dissolve after seven years.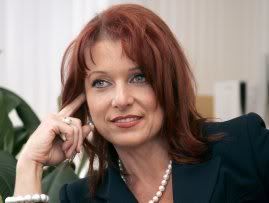 Everyone here is shaking their heads in disbelief at her naiveté (or chutzpa, if you prefer) as nobody has yet figured out how to get a marriage to last even that long. With 38 percent of Germans marrying today getting divorced (herself included, twice), Pauli believes limiting the affair to an affair would be more efficient in the end and save everybody a lot of heartache and pain, not to mention all the dammed paperwork and drudgery that goes along with filing for a divorce.
Her idea actually makes sense somehow, somewhere, in a way, sort of. If you don't do love, family, religion and all that, I mean. Hmmm, maybe that's why she joined a party called the Christian Social Union, hard to say for sure, though. At an rate, her suggestion is officially doomed to failure from the start and that's probably why she made the suggestion in the first place.
That and to get a little attention, I mean. Although I can't understand how this woman would ever need to pull publicity stunts to get any of that. After all, she did get her start here, didn't she (1990, I think)?
Come visit me at Observing Hermann…