"We can become much stronger," said laugh-a-minute standup megalomaniac Oscar Lafontaine. And how right he was for possibly the first time ever in his "short" little life, I think. His newly-formed Left Party in Germany certainly couldn't become much weaker.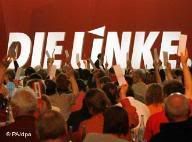 The Left Party, a bizarre marriage between the successor to the former East German communists (PDS or Partei der Stasi) and a wacko fringe western-based ex-SPD group calling itself something like The Election Alternative for Work and Social Justice exchanged vows with itself during a wedding ceremony conference over the weekend held somewhere anywhere other than in a church. But no sooner had Lafontaine's garter been removed and tossed to the maddening crowd then did he and his political ex-communist spouse Lothar Bisky begin ranting about bringing back something they called "the welfare state" and attacking "The West" for defending itself against terrorism.
Of course no one had the heart to tell them that "the welfare state" never went away in Germany and that "The East" doesn't wirklich (really) exist anymore. So the ceremony was able to continue on quite harmoniously and ended without a single fistfight.
"We are the only party which challenges the capitalist system," Lafontaine told delegates. "We want to reintroduce the social state. Of course we also want to reintroduce the right for workers to form trade unions, women's suffrage and secondary education for all. But we can't do all of this overnight, people. Help us out already. We need your support!"
Vorwärts immer or something.
Come visit me at Observing Hermann…