German claims that two Israeli F-16s fired at a German ship have been denied by Israel. The German Defense Ministry than said something to the effect of "Oh yes you did," to which an Israeli Defense Ministry spokesman stuck out his tongue and replied "Oh no, we didn't." And so on and so forth already.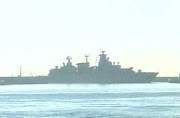 Berlin's Der Tagesspiegel (The Daily Mirror) reported that the incident, which took place on Tuesday, involved the unarmed reconnaissance vessel Alster, a helicopter, the two Israeli F-16s, some poorly or accurately aimed shots (take your pick) and dozens of nervous Germans and Jews.
The Alster is cruising before the coast of Lebanon as part of the UNIFIL peacekeeping force meant to prevent weapons smuggling into that country. But one Israeli spokesman claims that the ship was not officially listed as part of this flotilla. Nor was the helicopter which lifted from it authorized to fly in the area in which the incident (which do not take place) took place.
Hmmm, I'm a little skeptical about this one. Germans are really good about organizing Ausflüge (trips) and packing up their bags with the right stuff and putting together accurate lists etc. But hey, everybody's in denial again.
"I'm telling you, there was no such incident," said another unnamed Israeli military spokesman with clinched teeth and fists. "And if this dirt talk doesn't stop soon, they'll be no such ship, either."
Wow. This is escalating into something big (not). There is even talk of war. But it's more about the one that went on in Afghanistan. Or what happened afterwards, that is.
Come visit me at Observing Hermann…