Unconfirmed and anonymous reports indicate that President George W. Bush will be warmly welcomed by anti-globalization protesters today when he flies in to Rostock for the Group of Eight summit scheduled to begin tomorrow in nearby Heiligendamm. Of course other unconfirmed and anonymous reports for today also indicate that an asteroid will wipe out Australia, the Hindenburg will crash in Lakehurst, New Jersey a second time, and Paris Hilton will accidentally get executed in prison.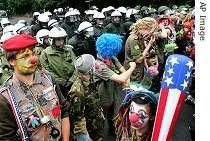 Protesters plan to gather at 5 p.m. local time near Weitendorf, a little hick town close to the Rostock airport, to show their heartfelt support for Bush's military policy in Iraq. "Our presence will show the US President that we're with him one hundred percent," one masked organizer is said to have maybe said but don't quote me on that one. "It's never easy to take an unpopular stand and we just want to show him that he's not alone here."
After handing the President several dozen large bouquets of chrysanthemums and roses, other international anarchist group spokesmen intend to thank him for America's contribution to global warming and the climate change proposal the White House presented to the world last week, the ballistic missile defense shield deployment planned for Eastern Europe, and the energetic support American culture (as in food or Esskultur) has provided the protestors during the strenuous exercise of their constitutional rights (thanks to Davids Medienkritik).
Bush could not be reached for comment, although this, too, could not be confirmed.
Come visit me at Observing Hermann…