Strange, all you ever heard about over here up until now was how perfectly reliable Russian gas shipments to Germany were. But now, suddenly, for some inexplicable reason, their pipeline technology seems to have developed a few bugs.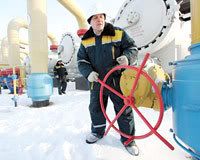 The Russians are working hard to alleviate the problem, I'm sure, just like they did recently with Ukraine, and this is a good thing, although no one here in Germany seems to notice or much care or dare raise their voices all too loudly, probably for some other inexplicable reason – like maybe the fact that Russia supplies them with some 37% of their total oil imports with another 9% being supplied by Kazakhstan and other countries through Russian pipelines, but who's counting?
The third interruption in Russian oil deliveries by pipeline to Germany in about a year now (but like that's okay they don't care, honest), it's good to know that Russian President Vladimir Putin (and his hand-picked successor Gazprom chairman Dmitry Medvedev) will continue to keep an iron grip on their pipeline and make sure that this type of unfortunate occurrence will never ever happen again until the next time they want it to.
If I didn't know any better, I would say that technological breakdowns like this are nothing more than a demonstration of power and a clear and present reminder of how dependent Europe has let itself become to Russian oil. But I know better. We all do, don't we?
Of course demonstrating how a technology can work is also a demonstration of power, too. So I'd say it's always a good thing to keep your technological options open, whatever they might be. But I'm not a European.
Come visit me at Observing Hermann…