Do you think this could have anything to do with the fact that Angela Merkel used to be a member? As if you could set your watch by it (this is Germany after all), the next big Ostalgie wave recently splashed in right over us, right on time for the anniversary of the founding of the GDR, and we hardly even noticed it. That's right. Germany's once belächelte (sniggered at) communist Free German Youth or FDJ organization has risen from the ashes to get sniggered at once again. And as if this wasn't bizarre enough, the guy behind the FDJ's rebirth is somebody named Ringo.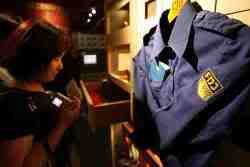 Ringo and co. believe that with unemployment in Germany now dropping to nearly 8% for the first time since troglodytes roamed the earth, the time is right for communism again, I guess. They plan to expose capitalism for the ugly, heartless and soulless thing it is and will "shake it to the core" by selling t-shirts on their website for 3 euros a shot.
At least these new unchained free German youth are open to new Feindbilder (boogey men), as well. "The United States used to be our enemy, but now it is the government of reunited Germany," Ringo recently said in an interview. Damn. If we could now just get the rest of mainstream German society to go along with him here we will have taken a great step forward for mankind. Again, I mean.
So do something for America and buy an FDJ t-shirt today! And like at 3 euros a shot, hey, stop the money hoarding. You can't get much more billig-will-ich (cheapness is what I want) than this.
Come visit me at Observing Hermann…