As rumors of war with Liechtenstein continue to spread, Chancellor Angela Merkel's CDU were beaten black and blue, or in this case black and green, and lost their absolute majority in state elections in Hamburg yesterday.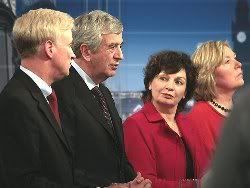 The SPD gained ground as did the ungovernable wacko squad Left party from good-old East Berlin, gaining seats in Hamburg for the first time. But with a strong Green showing, and a long Green tradition in this city, many believe that it's time to think out of the box (real hard for Germans to do) and that Hamburg could and even should now become the first German state to be ruled by a "black-green" coalition. The Greens have been traditional allies of the Social Democrats up until now, you see.
Other than the two obvious advantages of such a possible coalition government at this level (the SPD and the Left would not be in it), many observers believe that this could also maybe pave the way to a cautious beginning for the possible slow start of a somewhat wonderful relationship which could conceivably continue once national elections finally do take place. Like I said, maybe. But, then again, maybe not.
Biodegradable green and black-striped flags are being prepared for hissing should this marriage of inconvenience actually happen, just in case, although a quick honeymoon up on the Baltic is definitely out of the question now.
Come visit me at Observing Hermann…