You can only urge a return to what used to be traditional gender roles in Germany for just so long, and only go just so far, of course. Now news-reader-talk-show-host-pro-motherhood-book-author lady Eva Herman has done both and got canned accordingly.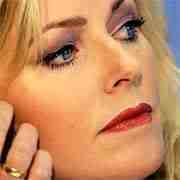 She is no longer suitable for public viewing consumption on Germany's NDR, in other words (although she still looks fine to me). She actually put the N-word in her mouth when talking about values. When talking about values like family, children and motherhood, I mean. Not smart. Or perhaps it was very smart. If it was intentional, I mean. You know; publicity and all that?
I can't count the times public people have been slammed or sacked here by using the N-word in public and come to think of it I probably should have taken the time to do so, damn it. And what surprises me is how nonchalant these public people are when it comes to doing so, especially when they have no pressing need to reference the N-word or address the N-word era or make comparisons to it. It is usually completely unnecessary and a no-brainer. A no-brainer not to use the N-word, I mean.
Unless, of course, you are intent upon shooting yourself in the foot. And this is probably what our Eva here wanted to do. Or is she really as blonde as she looks?
Don't go there M.A.S.H. fans (put obscene, grunt-like laugh here).
Come visit me at Observing Hermann…