Caught yet again fighting the good fight in the battle that was won for them decades before their births, concerned Germans in the Left Party (and that's the only kind there are there) are going to sue Wikipedia to clean up its dirty little brown past act. Or present, I should say. Deputy Left Party Person Katina Schubert is suing Wikipedia's German site for containing much too much too much Nazi symbolism, most of it having to do with the Hitler Youth movement.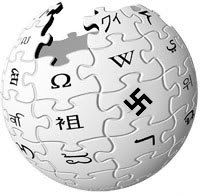 "This type of slimy symbolism simply has to go," said the irate lefty in Berlin. "We think that there should be more pleasant stuff like colorful balloons and pretty flowers and photos of Knut whenever referring to the Hitler Youth movement, and not so much of this Hitler and swastika crap. It's absolutely disgusting."
Another spokesman for the unbelievably red and weltfremd (quixotic) party indicated that once all the Nazi stuff is gone, other distasteful German symbolism may soon be "sued out" of the popular free-content online encyclopedia, as well. "And we've got one honking list here too, folks," he said. "But our lawyers have asked us to slow down a little for the moment and give them a little more time to set suing priorities before we continue on with the next list."
No one at party headquarters would comment on rumors that the party is also now planning to launch a new free online suing service called YouSue in which anyone anywhere who doesn't like anything they read at anytime can sue anybody they want.
Spokesmen for the Encyclopedia Britannica and Webster's Dictionary have made clear that they will sue back if YouSued, but no one at Germany's once famous Brockhaus Encyclopedia could be found who cared to comment on the matter or for much anything else just right now.
You sue, I sue. We all sue with YouSue.
Come visit me at Observing Hermann…