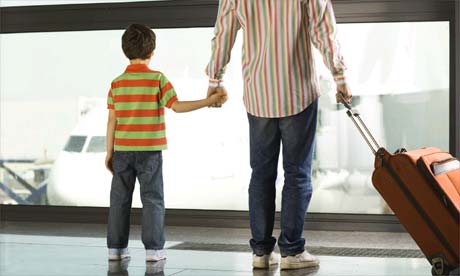 When the Roberts family goes on vacation, they don't just take pictures, they make a mini-documentaries… literally. And then they sell them under the title Travel With Kids. Their latest piece covers a trip to Paris where the couple visits numerous landmarks and various places around the city, all while providing helpful commentary filled with historical information and tips for parents who may find themselves preparing for a similar trip. The best part about this series, though, is that its' more than just a simple, "Here's what we did" short home movie.
Each hour-long episode features a selected city somewhere in the world and extensive information for preparing for the trip and making the most of it while there. Little things like designing flash cards with famous art pieces on them to keep the kids engaged at the Louvre and a brief breakdown of the lines at the Eiffel Tower help prepare other parents planning to make the trip themselves for the trip.
The couple is likeable and friendly, their kids are precocious, and the sites are breathtaking. Anyone looking for a video guide to travelling the streets of Paris with their young ones in tow can't do better than this.
Zach's Rating: A-
Perfect For: What else? Going to Paris with kids.
Stay Away if: You're not…going…to… Paris…with…kids.
Watch For: Great shots from the Arc de Triomphe
To purchase Travel With Kids: Paris, visit Amazon

For more information on PorchLight Home Entertainment, visit their homepage