Drängeln means to jostle, push or press. Or in this particular case, it means to urge speed at a high speed in a car on an autobahn, usually bumper to bumper, honking and/or with your headlights flashing. Lebensraum means habitat. And though illegal, most real men Drängler (and they are always men, I mean real men, of course) keep on drängling anyway. Needles to say, these are the same guys who go ballistic whenever somebody mentions introducing a general speed limit on German autobahns. And now they've got another reason to freak. Their Lebensraum just got a bit smaller.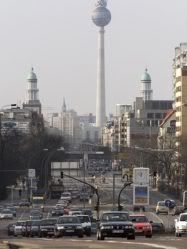 The high court in Karlsruhe just decided that Drängeln can also take place at low speeds in a city, which of course everybody already knew already. By the way, the charge for drängling here is Nötigung (assault or duress). They held up a fine for some Dummkopf who kept honking and blinking at some other guy driving through town in front of him, obviously another Dummkopf who had most likely been driving at or below the speed limit. I tell ya, it's a jungle out there.
A federally uniform catalog of stricter driving penalties came out in May 2006, offering harder punishment for driving bumper to bumper. But it is unclear if this has had that much effect, and I doubt if it ever really will. Around 190,000 Drängler get registered in Flensburg each year. When Germans say Flensburg, they usually mean this office in Flensburg that administers a point system database; the more points you get for bad driving, the quicker your driving license gets revoked. At any rate, what was originally meant for the autobahn is now applicable in the city, too.
So get your road rage out while you still can, folks. Oops, forgot. You already can't. Well then go ape on your driveway instead. Oops, forgot. Most Germans don't have a driveway. Damn. Like I said, it's a jungle out there.
Come visit me at Observing Hermann…