Finally, a Super-8 film about Germany for the hohl (clueless) family that has everything you don't particularly need right at this moment. Damn. And I thought Ostalgie was bad (and it is). Most of this stuff comes from "The West".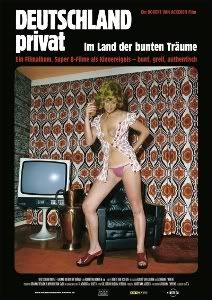 Director Robert van Ackeren has made good on his threat and put together a collection of two dozen Super-8 clips mailed in to him for that express purpose. You know, ancient self-made-cheapo-soft-porn-type-films that say something about 70s society you probably already knew and may or may not wanted to have heard about again. And really distressful stuff has been captured, too: The scenes with people wearing clothes and talking are the real shockers. If you don't believe me, just have a look at this.
His film, Deutschland Privat – Im Land der bunten Träume (Private Germany, Land of Colorful Dreams), is a homage-sort-of to an earlier film (about 30 years earlier) called, you guessed it, Deutschland Privat. Please be warned: This is a film about homemade films from the 1970s and any connection with modern reality as you know it is purely coincidental – and thoroughly intended, of course
Cheese sagen.
Come visit me at Observing Hermann…