-By Warner Todd Huston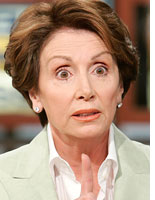 We are seeing it all over the news over the last 24 hour news cycle, the unemployment rate has fallen to 4.4%. This is a five and one half year low.In fact, Bush had an even better year in 2001 when the rate was 4.3%.
The unemployment rate fell in October to 4.4 percent from 4.6 percent in September. It was the lowest jobless rate since 4.3 percent in May 2001.
Now we have a rate of 4.4% and yet the Democrats call this the worst jobs record since the Depression? As quoted in the Los Angeles Times Nancy Pelosi (Dem. Calif) thinks the economy is in ruins. House Democratic Leader Nancy Pelosi said that "The president has the worst jobs record since the Great Depression".
Huh?
Let's take a quick look at Clinton's best unemployment record for a comparison. You remember bill Clinton? That Democratic president who's brilliance the Democrats constantly proclaim?
In 1999, the Clinton administration saw an unemployment rate of 4.2%, the lowest rate during his tenure which was, in turn, the lowest since 1969.
So, Clinton was a mastermind of the economy (even with the DotCom Bust?) with a rate of 4.2% and Bush is the worst since the depression with a rate of 4.3% … even though Clinton's 4.2% was the best since 1969!!
Need we remind you that Nancy Pelosi is in line to become speaker of the House if Democrats get in the majority? Is a person who claims a .1 percent difference is enough to proclaim one a fantastic economy and another one of the worst in history the kind of serious person we want as a national leader?
She just cannot be that stupid, so she MUST be a liar. How can anyone ever trust a Democrat? Vote Republican and defeat this woman, unfit for the Speaker's chair.